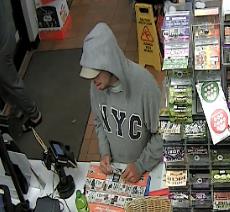 Case Number: 18-40292
Date of Crime: 11/16/2018
Type of Crime: Armed Robbery
Neighborhood: West Durham (District 3)
Location: 6007 Farrington Rd
The robbery unit is trying to identify the suspect seen below.  The suspect robbed the Family Fare located at 6007 Farrington Rd. on November 16, 2018.  The suspect is a white male with some facial hair and has black lower teeth.