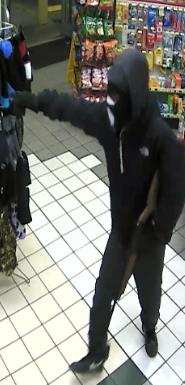 Case Number: 18-42630
Date of Crime: 12/03/2018
Type of Crime: Armed Robbery
Neighborhood: West Durham (District 3)
Location: 2502 Chapel Hill Blvd
Robbery Unit investigators are trying to identify the suspect below who committed a commercial armed robbery at the BP located at 2502 Durham Chapel Hill Blvd. The suspect attempted to rob the store using a rifle. The suspect is described as a black male, 20-25yoa, and 5'7" with a slim build. The suspect has on a black and white mask, black North Face jacket, grey sweatpants and black and white Nike shoes. The rifle is black and brown. The suspect fled on foot toward James St.