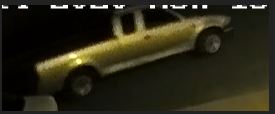 Case Number: 20-40851
Date of Crime: 12/14/2020
Type of Crime: Larceny of Motor Vehicle Parts
Neighborhood: South Durham (District 4)
Location: 4018 Patriot Dr
District 4 investigators are attempting to identify suspects who are alleged to have stolen a catalytic converter.  The suspects were believed to have been in this vehicle.  If you can identify the suspects please call CrimeStoppers at 919-683-1200.