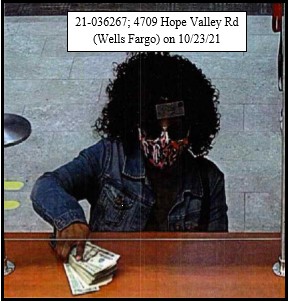 Case Number: 21-33741, 21-36267, 22-24609, 22-25262
Date of Crime: 07/19/2022
Type of Crime: Bank Robbery
Neighborhood: South Durham (District 4)
Location: Multiple (See Description)
Durham Police investigators are trying to identify the person in the attached images.  This individual is suspected in multiple bank robberies.
The first incident was reported at SunTrust 5790 Fayetteville Rd on October 5, 2021 at 9:46 AM.
The second incident was reported on October 23, 2021 at 10:13 AM at Wells Fargo 4709 Hope Valley Rd.
The third incident was reported on July 14, 2022 at 1:54 PM at the First Citizen's Bank at 4004 N Roxboro St.
The last robbery was reported on July 19, 2022 at 4:56 PM at the Truist Bank at 5407 S Miami Blvd.
If you can help identify this person contact CrimeStoppers at 919-683-1200.  Callers never have to give their name, and CrimeStoppers pays cash rewards!