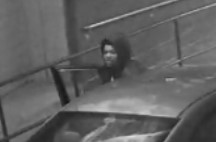 Case Number: 21-44266
Date of Crime: 12/22/2021
Type of Crime: Robbery w/ Dangerous Weapon
Neighborhood: Downtown
Location: 800 block of Ninth St
Can you identify these individuals?  Investigators say they are suspects in a robbing three individuals in the 800 block of Ninth Street.  The suspects stole the victim's Nissan Titan truck, NC plate JCW-3884.  Investigators say they arrived and left in a beige 2008 Honda Civic, NC plate HCR-5427 which was reported stolen.