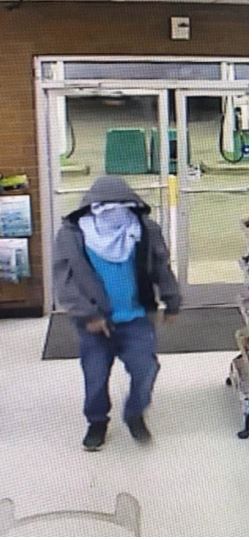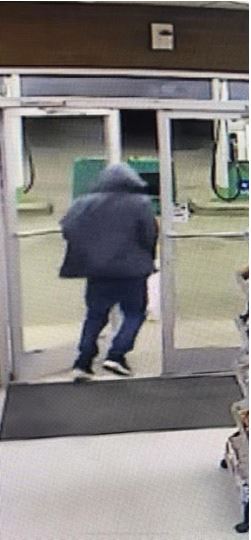 Case Number: DCSO 042222
Date of Crime: 04/22/2022
Type of Crime: Armed Robbery
Neighborhood: Durham County
Location: 3800 block of Cheek Rd
Sheriff's Office Investigators Seek Armed Robbery Suspect
Durham County Sheriff's Office investigators would like the public to take a look at the surveillance photos from an armed robbery that occurred on the night of Friday, April 22. Just after 9:00 p.m., a man whose identity is unknown entered the Billy's Mart at the BP station on 3834 Cheek Rd in Durham County. He approached the clerk with a black handgun and demanded money from the register. The clerk complied, giving him an undisclosed amount of cash. The suspect then fled east from the store on foot towards Fletcher's Chapel Rd.
The suspect is described as a white male of a thin build and standing approximately 5'10" tall. He was last seen wearing black and white tennis shoes, blue jeans, a blue shirt, and a grey jacket.  He covered his face with a light blue shirt during the robbery. No one was injured.
Anyone with information on the identity of this individual is asked to contact CrimeStoppers at 919-683-1200. All calls to CrimeStoppers are anonymous.