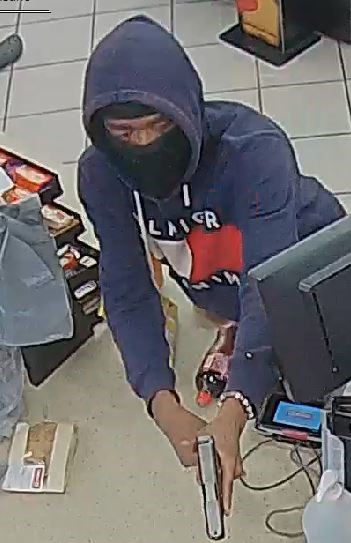 Case Number: 22-033412
Date of Crime: 09/19/2022
Type of Crime: Robbery w/ Dangerous Weapon
Neighborhood: City Wide
Location: Various - See Narrative
Durham Police Seeking Public Assistance in Identifying Robbery Suspects   
Durham Police Department Robbery Investigators are asking for assistance in identifying two suspects responsible for several armed robberies of local businesses and one armed robbery of an individual beginning on September 1, 2022.  The individuals in the attached pictures are suspects in the below series of robberies.
On 9/01/22 at 11:59 pm, Circle K at 3308 NC 55 Hwy
On 9/09/22 at 4:36 pm, armed robbery from a person at 1700 North Pointe Dr. (parking lot of Home Depot)
On 9/10/22 at 7:56 pm, Family Fare BP 3921 Fayetteville Street
On 9/10/22 at 8:18 pm, Family Fare BP 2432 Erwin Road
On 9/10/22 at 8:26 pm, Walgreens 200 N. LaSalle Street
On 9/11/22 at 9:38 pm, Walgreens 1109 NC 54 Hwy
On 9/11/22 at 9:46 pm, Walgreens 6405 Fayetteville Road
On 9/11/22 at 10:20 pm, Family Fare BP 3511 Hillsborough Rd
On 9/13/22 at 10:26 pm, Family Fare Shell 3101 University Drive
On 9/19/22 at 8:28 pm, CVS Pharmacy 3573 Hillsborough Rd
On 9/19/22 at 8:30 pm, Shop-n-Go Food Mart 4640 Hillsborough Road
On 9/19/22 at 8:50 pm, Tommy's Mini Mart 1832 Cole Mill Road
Anyone with information is asked to call CrimeStoppers at (919) 683-1200. CrimeStoppers pays cash rewards for information leading to arrests in felony cases and callers never have to identify themselves.