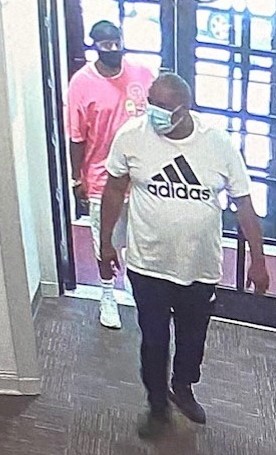 Case Number: TMP-CG-052421
Date of Crime: 05/24/2021
Type of Crime: BE
Neighborhood: North Carolina Central University (NCCU)
Location: William Jones Building
On Monday, May 24th, 2021, at approximately 11:20 am, two males entered the William Jones Building on the campus of North Carolina Central University off of Fayetteville St near Formosa St.  The two are alleged to have unlawfully entered offices.
Investigators described one suspect as an African American male, in his mid-fifties, with black and gray hair, and a medium haircut. He was wearing a  blue face mask, a white short sleeve T-Shirt with the wording "Adidas" in black, with an Adidas symbol attached to the front of the shirt. The suspect also wore black athletic pants with a small white Adidas logo attached to the left pant leg and black athletic shoes.
Investigators said the second suspect is an African American male, in his early twenties. He was wearing a black head covering (possibly a Do-Rag), a black face mask, two shirts, a white shirt under a light red T-Shirt with a white logo affixed to the left side of the shirt. Additionally, the suspect wore a pair of multi-color shorts and a pair of white athletic shoes.
If you have any information about this incident or if you can identify these subjects call CrimeStoppers at 919-683-1200.  All callers remain anonymous, and cash rewards are paid in felony cases.