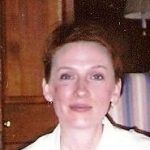 Name of Victim: Cynthia Kirk
Date of Homicide: 08/21/1989
Neighborhood: West Durham (District 3)
Location: 502 Constitution Dr
Suspect Status: At Large
Cynthia "Cindy" Kirk, 34, was found fatally stabbed inside her home at 502 Constitution Drive on August 21, 1989. It was determined that she was stabbed in her driveway during the afternoon as she was getting ready to go to work.
A witness told officers he saw a middle-aged white male in a green sedan in the neighborhood around the time the incident occurred.